Monday, November 2, 2009 at 4:12PM
NEW RELEASE on Wave Music :: BEAT PHARMACY :: Wikkid Times Remixes EP
Beat Pharmacy's 'Wikkid Times' album gets the remix treatment from Appleblim & Komonazmuk, John Daly, Deadbeat and Intrusion on this massive EP.
Moeller, whether as Beat Pharmacy, Echologist or his own name, has spent his career releasing on some of the strongest labels in the world. The likes of Rekids, Third Ear, Connaisseur and Echochord have all called upon Moeller's prodigious, dub-styled talents which is superb testimony to his abilities. Appleblim & Komonazmuk take on 'Nuclear Race' feat. Paul St Hilaire first off and create a slow burning dubstep interpretation which layers up gradually from stripped dub atmospherics to a dense, arpeggio laced crescendo. St Hilaire's vocals drift in and out of the mix which adds to the layering of sounds and creates a mesmerising listen. Irish producer John Daly continues an amazing 2009 with his remix of 'Time' feat. Damon Aaron. A lazy house but powerful house beat underpins Daly's use of chords and stabs while Aaron's voice is used as an emotive and memorable counterbalance, making it yet another remix hit for the outstanding producer. One half of Echospace, Stephen Hitchell, dons his Intrusion cap for his remix of 'Sunshine' feat. Paul St Hilaire. An alias reserved as an outlet for Hitchell's combination of his love of traditional dub reggae and his more techno excursions, Intrusion means a skanking, white-noise-washed and blissful trip for 'Sunshine'.
Finally, Wagon Repair artist and engineering wizard Deadbeat carefully twists 'Ghostship' and its post apocalyptic lyrics from Spaceape around a low slung house groove. Clattering, loose percussion adds a swagger to cut while subtle, filtered stabs hint at buried melodies throughout. This is a stunning package and features some of the leading lights of dub infused sounds – unmissable.
VISIT WAVE MUSIC to listen and purchase the EP here.
WHAT PEOPLE SAY...
Laurent Garnier
Brilliant remixes . Perfect for the radio and for early dancefloor sessions. Another perfect release on Wave.

Darren House - Diesel / Xpress 2
Excellent. Love Appleblim rmx and John Daly. Good to see Wave doing it.
Josh Wink - Ovum
Deadbeat rmx is the one for me. Builds nicely for a lil' dub groover.
DJ Hell
Killer as always from Wave!
Yannick Labbé - Trickski / Innervisions
Totally lost in dub. Deadbeat mix is my fave.
Luke Solomon
A very "Wave" sounding record... Deadbeat mix grabbed me... will give it a whirl
Ashley Beedle
Love this. The Appleblim and Deadbeat remixes are the killers for me. Big support.
Trevor Jackson
Wave Music is an outstanding label & John Daly made some of the finest releases of 2009, this remix goes to show what an expert he is in atmosphere and solid sublime grooves.

CHECK OUT SOME OF THE REVIEWS (click on tiles to visit site)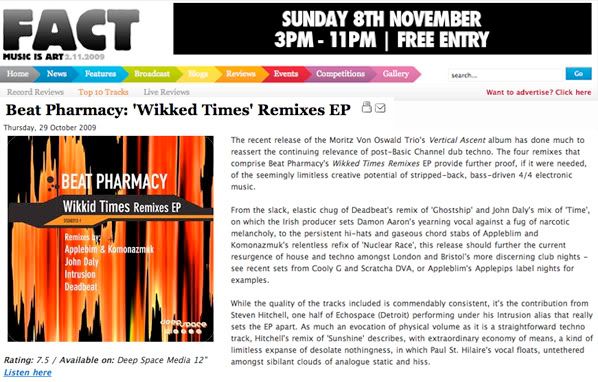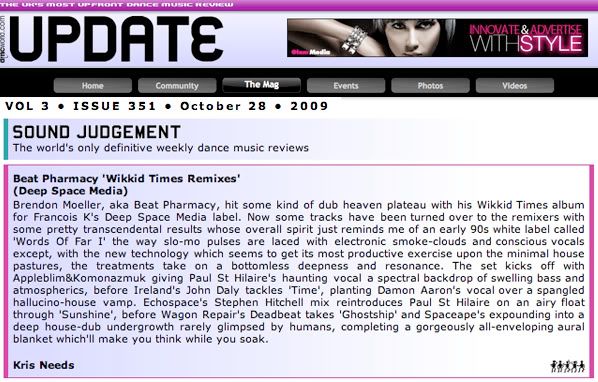 tagged
John Daly,
New Releases,
Press,
Reviews